Domestic Flight Australia
Find and compare cheap domestic flights in Australia. We have Australia flights schedules all listed in one convenient place.
Nothing can quite compare to Australia's vast landscapes and scintillating sights. From its deserts to its alpine heights and from its tropical rainforests to its sparkling beaches, the uniqueness and diversity of the Australian environment attracts hordes of tourists each year, making this wide brown land of down under the eighth largest global tourism market with the biggest aviation market in the world.
This site will connect you to the most convenient and affordable flights to Australia, from both domestic and international destinations. Compare airfare prices across airlines, read about the major players in the Australian airline industry, and choose from among the more than 40 airlines to get you to your Australian destination of choice.
Find The Cheapest Airfare
Whether you're off to Sydney and Melbourne, Queensland, the Gold Coast, Tasmania or New South Wales, find the lowest airfares available to you simply by entering your destination and your travel dates.
Whether you enjoy traveling First Class, or are searching for the cheapest Economy seats to fulfill your Australian dream holiday, this flight finder will point you in the right direction towards the most ideal deals for your trip.
Flight News And Updates
To get the most current airline news, the lowdown on low season flight deals, delays and cancellations, code share flight information, connecting flight news, and which Australian airline to best use your mileage points on, log on here for your latest aviation news.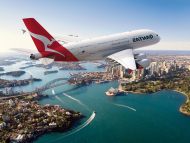 Check Your Flight Status
There are over a hundred airports in Australia, and more than 40 airlines that fly in and out each day to and from thousands of destinations around the world. Checking your flight status here prior to your flight will help you get up in the air with a minimum of confusion and fuss.
Airline Promotions
Why should flying to Australia be a bore when you can scour this page for the most exciting promotions Australian airlines can offer? Find the best deal on the latest promo fares and special offers here.
Australian City Flights
If you're flying non-stop or have a connecting flight to your Australian destination of choice, find out which airline will get you to your destination much faster and much easier without breaking your bank or your schedule.
Booking Information
If you have inquiries about Visa, passport, other documentation needed to get to where you need to go in Australia, enter your flight details and get a summary of flight schedules, airfare, check-in time, airline rules and regulations, and everything else you need to know to make your flight as seamless as possible.
Flying To Australia
Australia has 43 airlines holding valid Air Operator Certificates issued by the country's Civil Aviation Safety Authority. From various hubs in Darwin, Cairns, Broome, Alice Springs, Brisbane, the Gold Coast, Perth, Adelaide, Canberra, Melbourne, Hobart, and Sydney, each of these Australian-based airlines land in over a hundred airports all over the territory.
Source out more Australian tourism facts here, including popular destinations and airports, and choose the best airline to get you where you want to go.